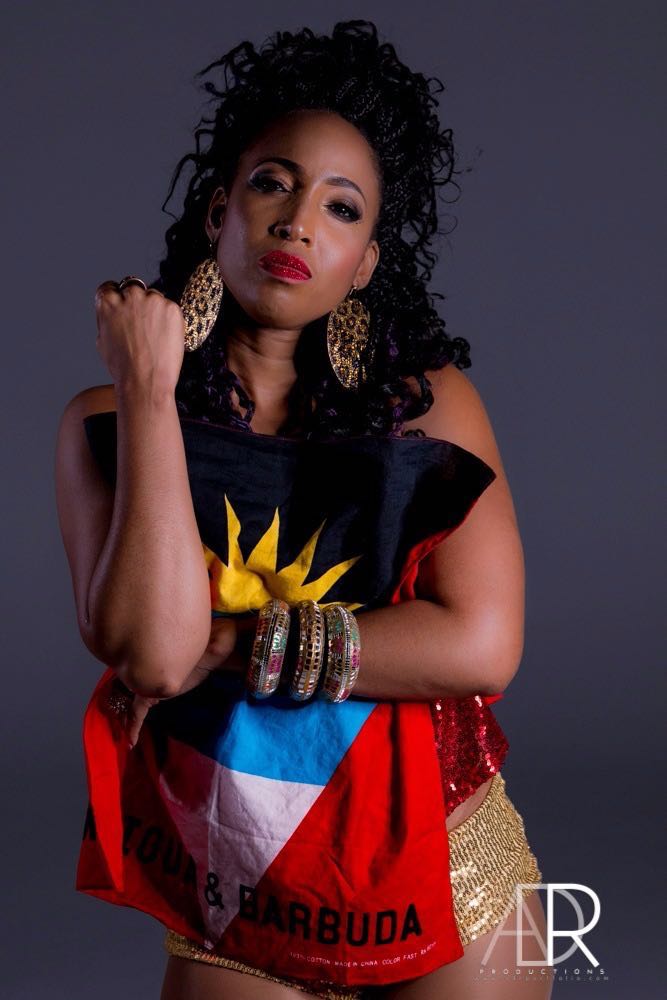 She has the goods: talent, looks, personality.
She has the hits: Expose, Kick it off, Da Bounce Wuk Meh, Tz Wine, Klymaxx, Fly, Just cant Wait, Road Calling, Crank It, M.P.D (Move Pass dem) and Antigua Nice.
She's making all the right moves: from Antigua to the world stage.
Soca siren Tanzania 'Tizzy' Sebastian's star has been rising steadily and is burning ever brighter on its way to its zenith. Prestigious recognition of Tizzy's talent was bestowed upon her in 2007 in the form of three International Soca Awards; punctuating the remarkable accomplishments of 2006 and 2007, and fuelling the fire for 2008 and beyond.
The journey to centre stage began much earlier, however; maybe even as far back as the womb. After all, with a dancer mom and a musician dad, talent was definitely in her genes. Tizzy honed her hoofing skills as a student-cum-principal-dancer with the Antigua Dance Academy. On the 108 square mile Caribbean gem from which Tizzy hails, the Antigua Dance Academy is synonymous with the best in Afro Caribbean rhythm and movement. Tizzy's tutelage began at age eight, when it was still known as the Little Dancers School of Dance. Her passion for entertainment bloomed as naturally as a hibiscus in the Antiguan sun, and in time, Tizzy emerged as one of ADA's featured dancers and choreographers.
She was only 18 when she got the opportunity to explore the other side of her musical pedigree. That's when she began doing background vocals for El A Kru. The band was already a well-established part of the Antigua soca scene, but the Kru's leaders knew talent when they saw it. Soon, Tizzy was a part of its formidable front line. She took the microphone and hasn't looked back since; quickly becoming a fan favourite.
Tizzy also began accumulating frequent flyer miles as the group delivered explosive and energy-filled performances at carnivals in Trinidad and Tobago, Miami, Tortola. El A Kru also played the St. Kitts Music Festival, France, UCLA Jazz & Reggae music Festival 2k10, Belgium Music Festival 2k10 and many other venues up and down the island chain; St. Croix, Barbados, Dominca, Guadeloupe, St. Lucia, St. Thomas, Virgin Gorda, Nevis and then some. There were stops in the Big Apple as well, as the band continued to build its reputation.
Tizzy began to stand out with 2005's Off Limits and Stand Up, on which she sang lead. Then, in 2006, the year of the Kru's Antigua Nice album, she exploded. If a singer is lucky, there's that moment in her career when the perfect marriage of song and artiste proves magical. Expose proved to be that rare moment for this rising Antiguan soca siren; the song proving to be a runaway hit both at home and abroad. When she sang, "we gonna show them how to jump, we gonna show them how to wave, we gonna show the world how we jus' get on," it was nothing short of a declaration and a promise.
The song's video, released in 2007, had two main stars – the Antiguan landscape and the Kru's soca siren. Both seized the moment, showcasing their brightest colours and best moves. If possible, the staccato Road Mix version of Expose, as showcased in the video, proved even more popular with fans; and the video was the perfect platform to extend the song's dominance of the airwaves. It was launched to critical acclaim on Synergy TV in Trinidad, MTV's Tempo, BET J, and other music video stations; as well as You Tube, My Space, and other online hot spots.
The unbridled enthusiasm displayed by Tizzy in the Expose video, was rivaled only by the fans and converts' enthusiastic response to it. The blazing tune enjoyed a seventeen week run on the Tempo Top Ten countdown, holding down the number one spot for two of those weeks. It was inevitable that the tune would be selected for VP's popular Soca Gold series; only one El A Kru tune had previously made the cut nearly 10 years earlier. The band was riding another wave of success, and Tizzy was a big part of that.
Two thousand and seven was a big year for Antigua, between the hosting of Cricket World Cup, the 50th Anniversary of Carnival, and other highlights. A massive tourism campaign was launched both at home and abroad to capitalize on that. Tizzy's bright smile lit up billboard after billboard as she became the face of that campaign. In an additional coup, the title track of the Kru's 2006 CD, Antigua Nice, became the year's official anthem; Tizzy, with yet another break out hit, featuring in TV/radio ads and in promotional junkets to New York and England.
In 2007, Tizzy continued to soar as an artiste showing a definite flair for owning a song, whether soca straight up or with a chaser of R & B, Hip Hop, or Rock. Soca lovers rewarded her with three ISA 2007 awards as Best New Female Soca Artist, Female Soca Performer of the Year, and Favourite Uptempo Soca Female. Tizzy made it clear that this was only the beginning, telling the Antiguan press: "we are going to continue to work hard and be committed, because we should have a lot more success in the future."
Tizzy, Antigua's musical ambassador, is poised to deliver on that promise.